Cardiovascular Disease Series with Joel Kahn
This is a program jam-packed with action steps for you to recommend and assist your patients before they get heart disease or reverse it if they have heart disease already.
Format
Online Course
3 lessons
Availability
12 Months OR Subscriber Pass


Duration
90 min/lesson
4.5 Hours total
About this course
Cardiovascular Disease is still the number 1 cause of death in industrial countries. This disease is the one that you can have a huge impact on. This is due to the enormity of people who have and will die from cardiovascular disease, and also the knowledge that we have of what causes it and what we can do using natural methods. And we can do a tremendous amount.
Dr Joel Kahn is a renown cardiologist and he has treated thousands of patients with acute heart attacks during his career. He has produced for us a three-part, highly practical series on cardiovascular disease. This is a program jam-packed with action steps for you to recommend and assist your patients before they get heart disease or reverse it if they have heart disease already. The program begins with a necessary and very interesting discussion of cholesterol and its relevance to cardiovascular pathology.


Prevention of disease is frequently discussed in natural medicine circles yet it seems rarely practiced. It requires clarity on the causes and also the markers of pathology. Cardiovascular disease is a unique condition in that we have significant insight into both of these, the causes and the indicators of disease and its progression. This makes cardiovascular disease the ideal target for chronic disease prevention and life extension.


This course will give you many strategies that you can apply straight away in practically all of your adult patients. Implement a cardiovascular disease prevention program now.
Clear protocol explanations from some of the world's top practitioners

Clinical pearls for improved practice results

Access to your audio and video recordings via the App Store


A downloadable PDF of the presenter's slides

Links to all referenced research papers and useful clinical handouts

Access to the community hub where you can get answers to your questions

A 30-day money back guarantee
From this course you will
Review the latest understandings of the process of atherosclerosis and lesion rupture
Learn how cholesterol relates to heart disease and also what does raise cholesterol levels
Discover natural means to reduce cholesterol
Understand the medical model of atherosclerosis and cardiovascular disease
Learn what lipoprotein(a) is and what it indicates
Know which diagnostic parameters are useful to run to assess your patient's risk and their disease progress
Receive comprehensive treatment suggestions and practial care plans for these patients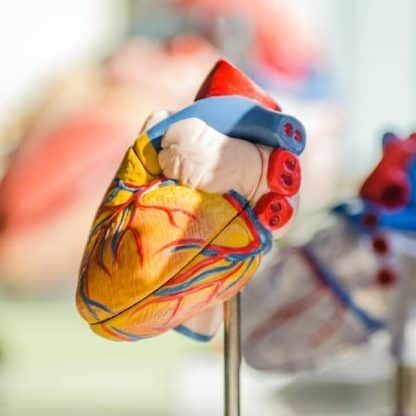 Dr Joel Kahn
Dr Joel Kahn is one of the world's top cardiologists. He has treated thousands of acute heart attacks during his career. He'd like all that to stop. He'd like to prevent ALL future heart attacks by breaking through to the public to educate and inspire a new holistic lifestyle.


Joel Kahn, MD, is a summa cum laude graduate of the University of Michigan School of Medicine and practices cardiology in Detroit. He is a clinical professor of medicine at Wayne State University School of Medicine, the Founder of the Kahn Center for Cardiac Longevity, and a columnist at the Huffington Post.


Dr Kahn is a frequent lecturer and author on topics of vegan nutrition and heart disease reversal. At his core, Joel believes that plant-based nutrition is the most powerful source of preventative medicine on the planet. Having practiced traditional cardiology since 1983, it was only after his own commitment to a plant-based vegan diet that he truly began to delve into the realm of non-traditional diagnostic tools, prevention tactics and nutrition-based recovery protocols. These ideologies led him to change his approach and focus on being a holistic cardiologist.


He passionately lectures throughout the country about the health benefits of a plant-based, anti-aging diet inspiring a new generation of thought leaders to think scientifically and critically about the body's ability to heal itself through proper nutrition.
New Course!
Maximising the Clinical Experience Get instant access now!