The courses you have started will appear at the TOP of your course list. If you start a number of courses this area can get quite busy. We recommend that you do a few courses at a time.
We have Apps for Android and Apple devices on the Google Play and Apple App stores. Search for "Health Masters Live" in your app store.
You can now download your videos individually or in bulk and watch them offline.

Building a learning habit is a key part of your success. And the most important part of making anything a habit is to find time in your schedule to do it. In other words, you have to make learning a part of your daily routine.

We know that it can be hard for anyone to find the right time to learn. That's why we've created Learning Reminders in our Mobile App that allow your to set reminders at the time and frequency you're most likely to learn - because even a few minutes of learning every day makes a difference.

Setting a reminder is a great way for you to stay motivated and on track to finish your courses and reach your goals. You can select the days of the week and the time of day you want to receive reminders straight to your device. Easy-peasy! Learning Reminders are like your own personal coach who motivates you to jump back into action (we all need a little push now and then). Your will find the "Learning Reminders" feature via the "More" section in your app.

How do I access the Apps?
Click here
to access our google Play App.
Click here
to access our Apple App. Search for "Health Masters Live" in your app store.
How do I change my email?
Click on the Profile link, via the drop down menu on the top of the website, and then click the "edit" button. Please note that this won't change your email (or add your new email) to our newsletter system which will mean you will still receive newsletters to your old email. You can unsubscribe from these via the link on the email and you can sign up using a new email address via the link on the bottom of our website.
How to send a private inbox message to support
Click the "Tech Support" option that can be found on the top bar menu (under "Me").

OR you can click on the Inbox link from the top bar (under "Me") then click on New message at the top right. Start typing "@support" and a list of suggested accounts will appear. Choose the correct one. Fill out your message and click Send.
Where to find the class discussion board
Click on the "Discuss" tab (next to "Path") in the course player, to access the discussion of this course. You can use this to communicate with your classmates and instructor.
My course has stopped playing after a certain time
If a course video stops playing at a certain point and won't go beyond that, we recommend refreshing your browsers cache.
https://clear-my-cache.com/
Make sure that the combination of e-mail and password you tried is correct.

Note: For security reasons, our error message doesn't explicitly reference whether you made a mistake in your email or password. This is deliberately so to make it harder for malicious individuals to guess any account details.

If you wish to get a brand new Password: Click on the "Forgot your password?" link located just below the Login button. Type the email that corresponds to your account and click OK.

An email will be sent to you with a link for setting a new password for your account. If you don't see the email appearing in your Inbox, make sure to also check the spam folder as it may have been accidentally caught by your email's spam filter. If this is the case then make sure to identify this message as "Not spam" so that you don't lose any future correspondence from us.
The password reset link isn't working
If you cannot reset your password and you receive a "Not Found" error, this means you have clicked on an expired password link.
A password link can become expired in two ways:
24 hours pass after it has been initiated (if it's a password reset email) or 30 days pass for re-activation emails
More than one password link has been generated. In this case old password links will expire and only the latest one will be valid. Make sure you are clicking the link in the latest email sent.
I purchased a course. How do I access it?
If you have purchased a course visit the course page and you will have full access to it to stream immediately. Alternately, you can access the
start page
(as soon as you log in) or the "Me" link (also called My Courses) in the top menu. If the lesson is still to be presented live it will say so on the course page. Recordings of live events are put on the course page up to 6 hours after the live event.
The courses you have started will appear at the beginning of the course list.
If you have an All Access Pass, ALL of the courses will be listed on that page by default. Use the search bar to filter courses. If you are looking for our LATEST courses please choose that course category from the drop down menu near the search bar.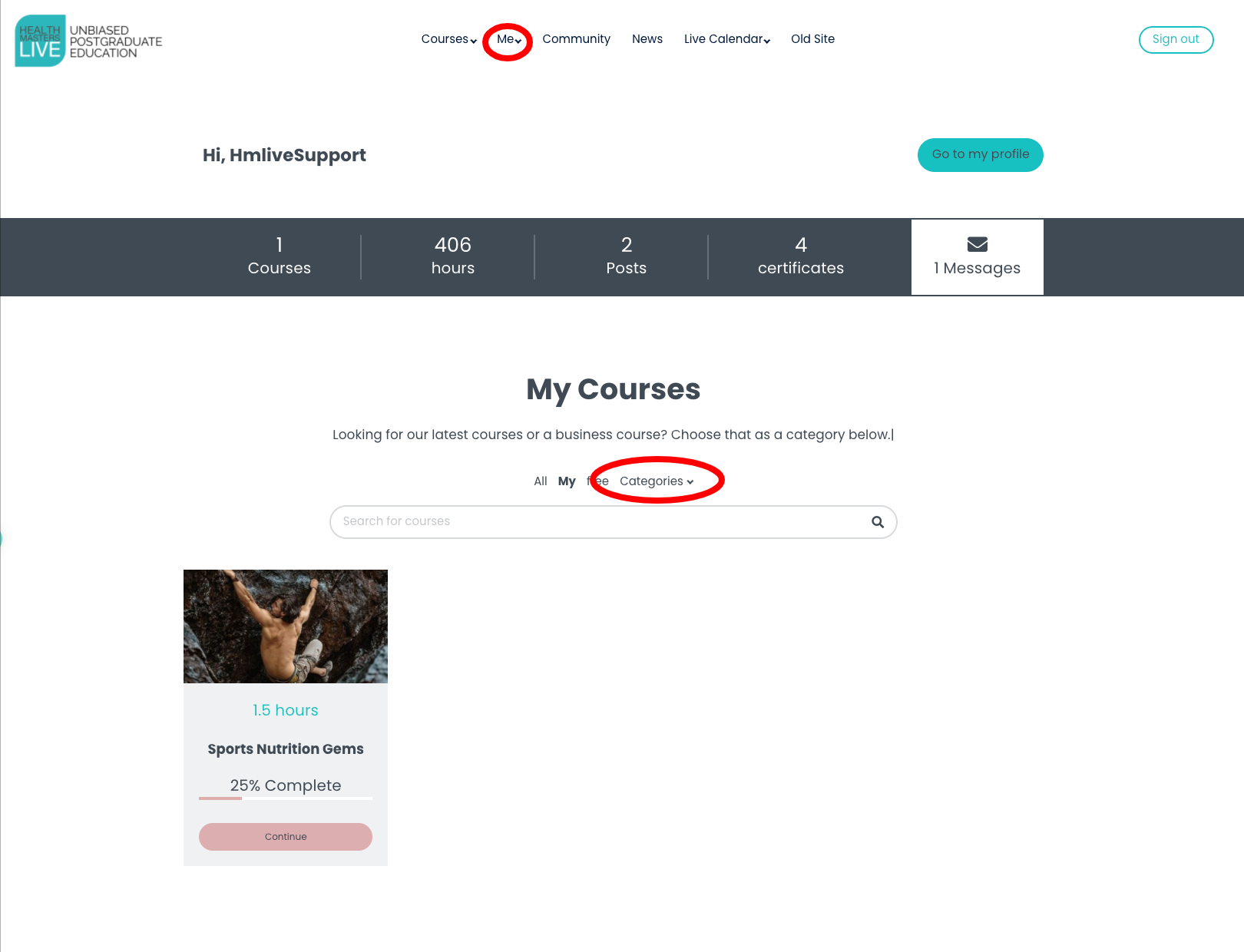 By clicking on a course card on the Courses page, you will also be redirected to its contents where you can watch a webinar or download the notes etc.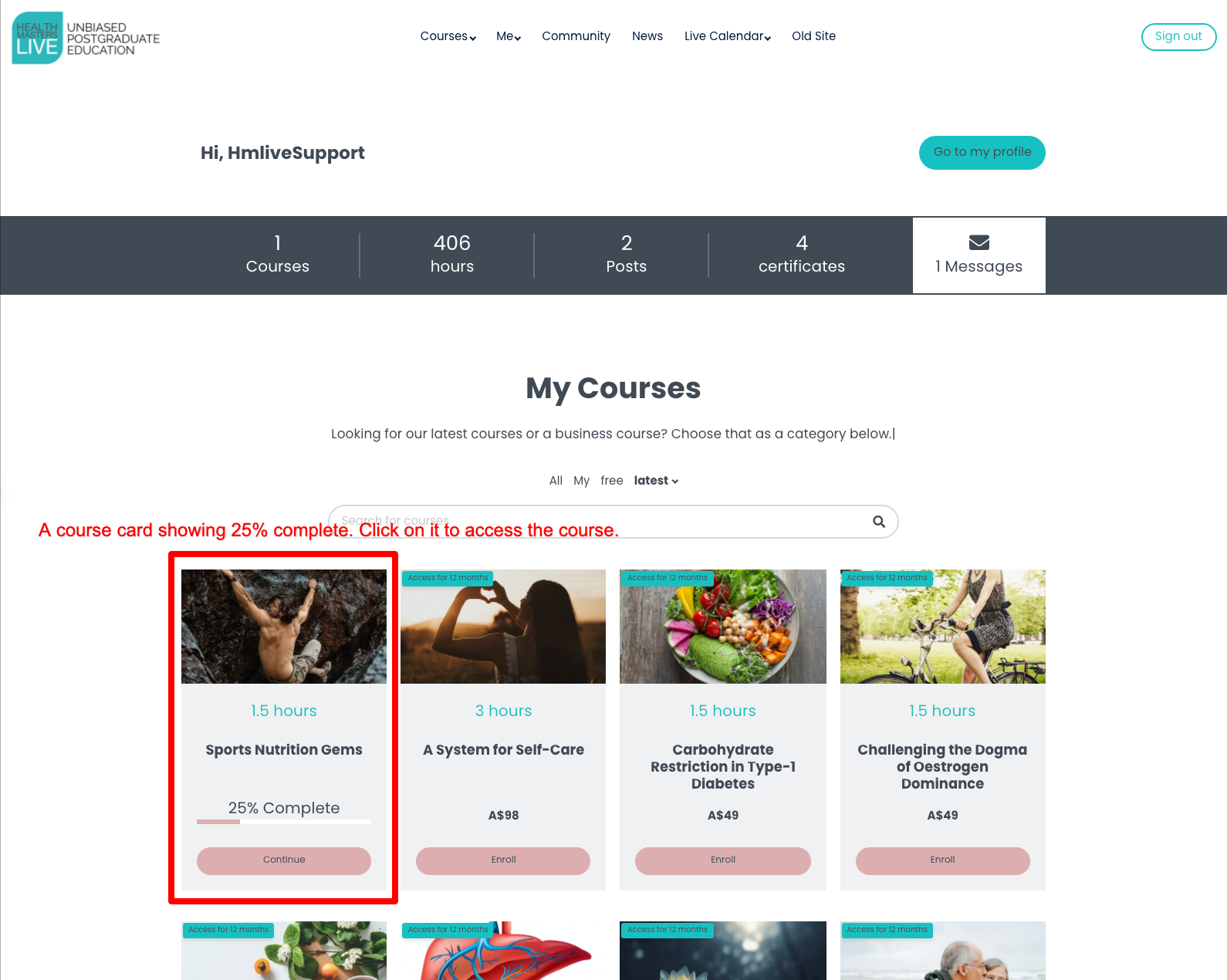 How to navigate inside a course
Once you access a course, you will find a full table of contents on the left-hand side of the screen. You can browse through the sections and access the learning activity you would like to study. You can always come back re-visit any learning activity you wish. Any learning activities that you have visited are marked with a discrete checkmark.
How do I complete a course
All you need to do is click into every section of the course (for at least 2 seconds) so that a "tick" shows next to each section. That will "complete" it. You may need to do a quiz to get the certificate.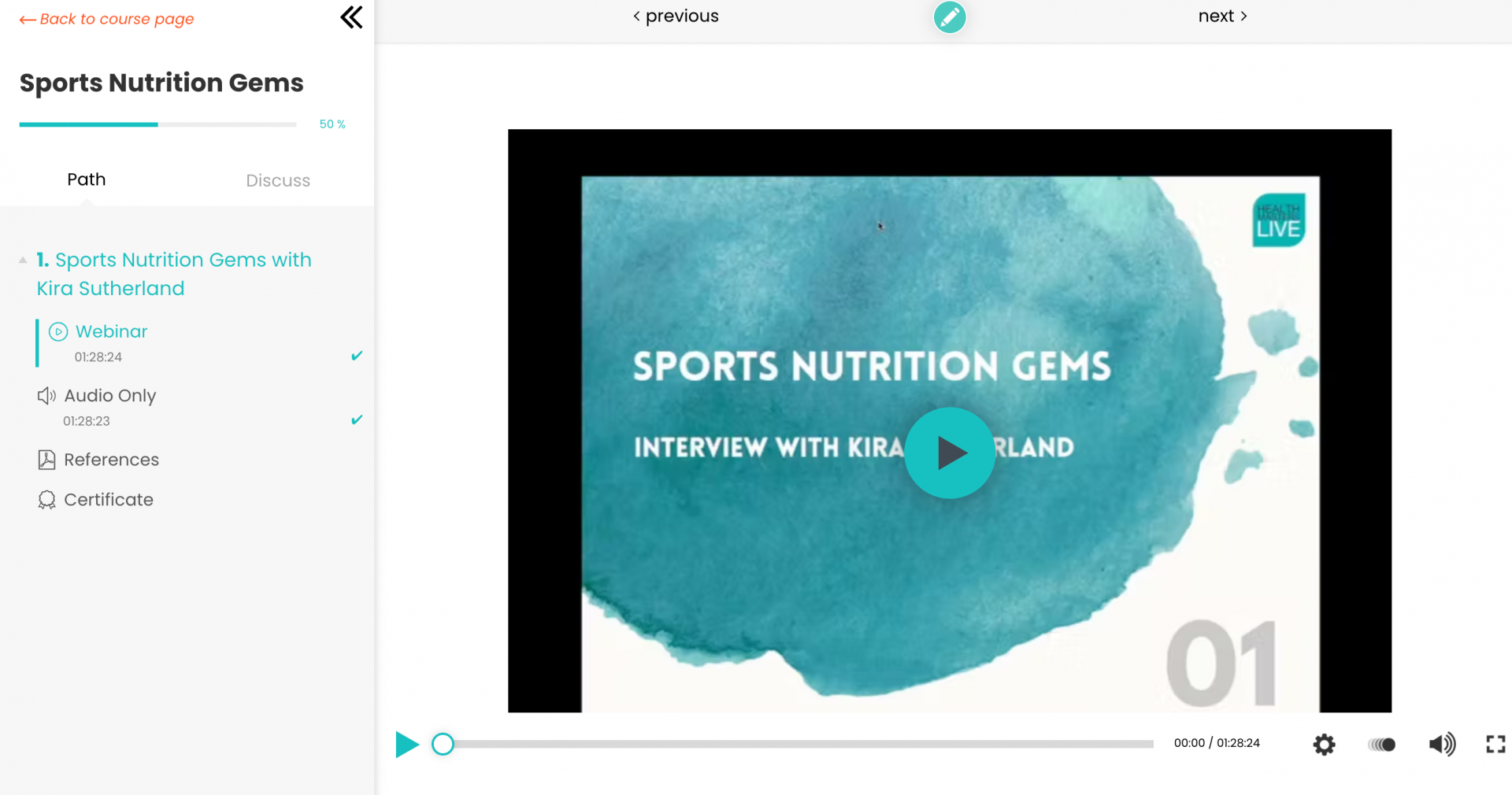 How soon will I get access to my courses?
You will get access to your course(s) immediately after you make an online purchase (or when you have been manually enrolled by the instructor). All courses will be available for you if you are enrolled in an All Access Pass.
Can I take more than one course at a time?
Yes. You can take as many courses as you wish. We highly recommend, if you have an All Access Pass, that you take just a few classes at a time so that you don't feel overwhelmed. The courses you have started will appear at the beginning of the course list.
Can I download course content?
We sign intellectual property agreements with our presenters that allows them to keep their IP and excludes downloads. Many of them are writing books or producing other materials and wish to keep control of the distribution of it.

If you are enrolled in a course (paid or not) you will have access to the whole course contents for streaming the webinar and audio and downloading the notes, ebooks and PDF files. You will need to be connected to the internet, to stream the content.

Do I have to be online at a specific time to take a course?
No, you can take your course whenever you want. The course remains online around the clock. All you need is internet access and a fairly modern browser. The exception to this are Live Sessions, which need to be visited at the prescheduled time.
All of our upcoming live webinars will be listed on our
live calendar page
.
Where is the invoice for the course I just bought?
You can find fully detailed invoices for all the courses you have purchased on the
Account page
, which can be found by accessing the top bar menu on the top-right corner of the school page.
How do I edit my account details and change my password?
When logged in to your school, click on the Profile link that you can find on the top bar main menu, right below the "Me" link. This will lead you to your profile page.

Click on edit to start changing your personal info. You can update your name and email address, add your professional experience so that other members of the community can learn more about you, as well as add your social accounts for others to be able to contact you.

How can I change my password?

Changing the password can be done from your Profile page. Select "Profile" under "Me" on the top menu. Select "Change Password", enter your new password, and click on Save.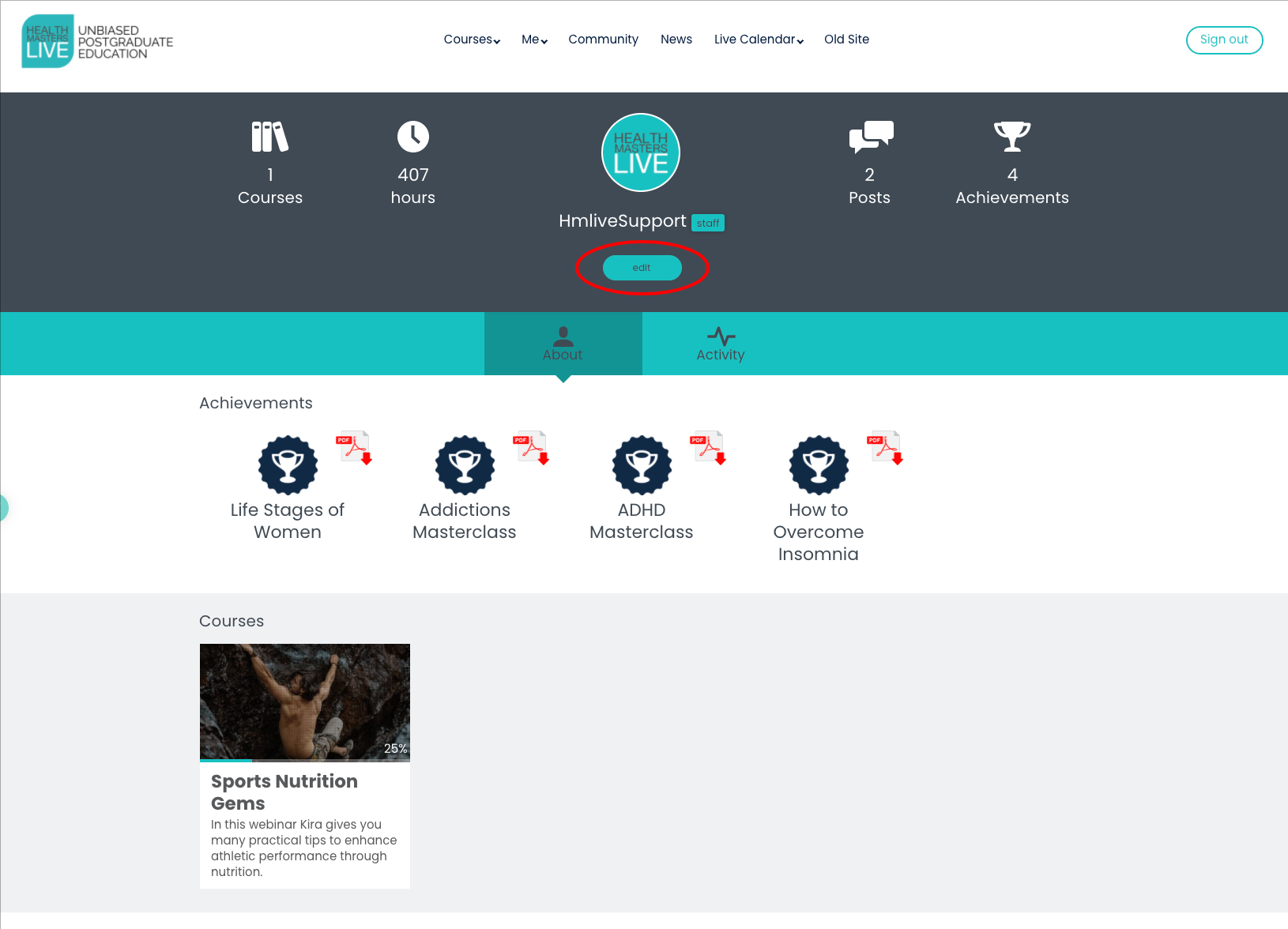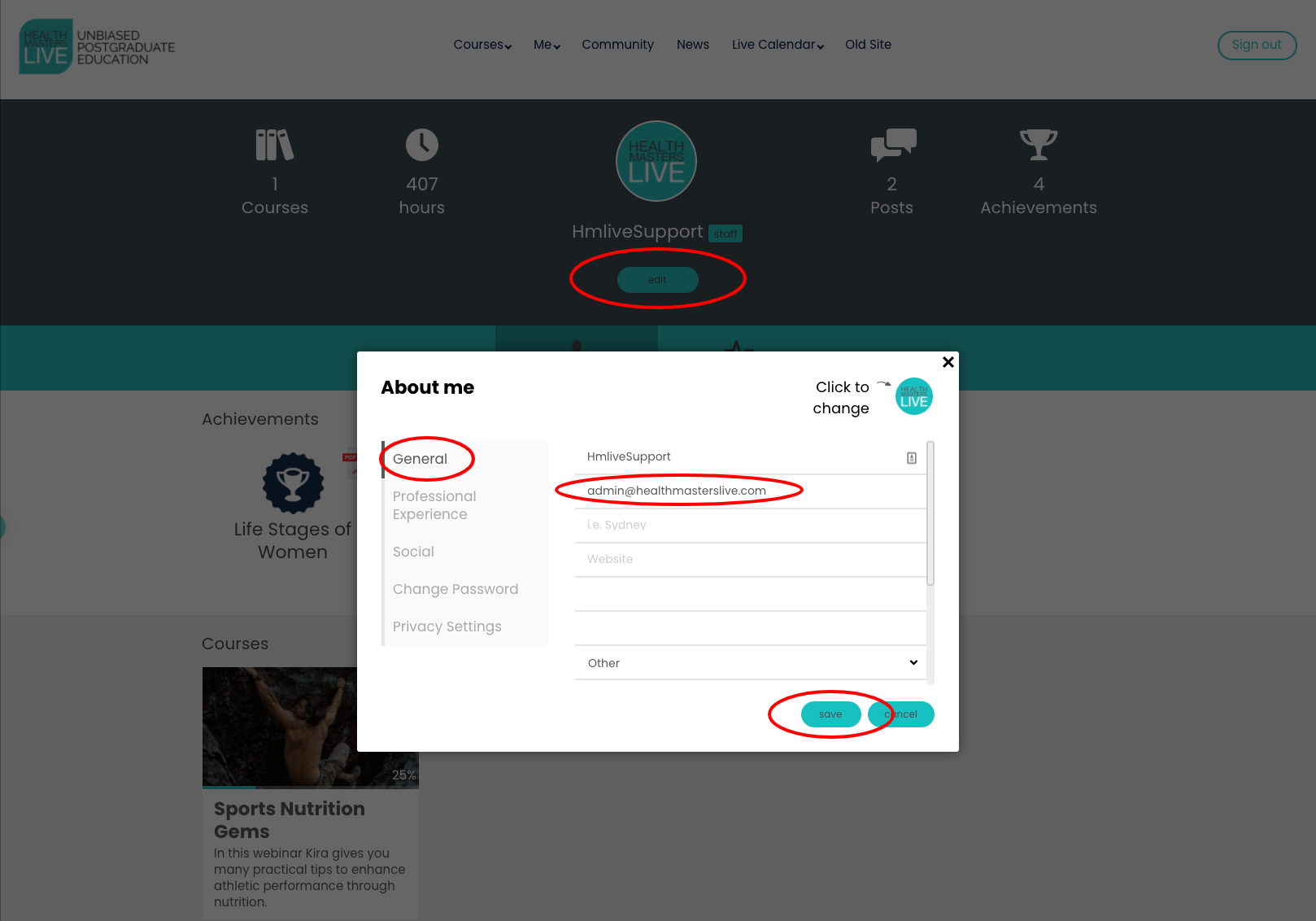 How to find and access a course that I have completed
You can access your courses anytime until they expire (12 months from registration) by logging in and visiting the course page. The courses you have purchased appear first in the school's course catalog.

If you have an All Access Pass, none of your courses will expire until your subscription is cancelled. All of the courses will appear in the course catalogue for you to access. Use the search function to find a course.

The courses you have started will appear at the beginning of the course list. You can see on the picture below that this person has started Sports Nutrition Gems, so it now appears at the top of the Course list.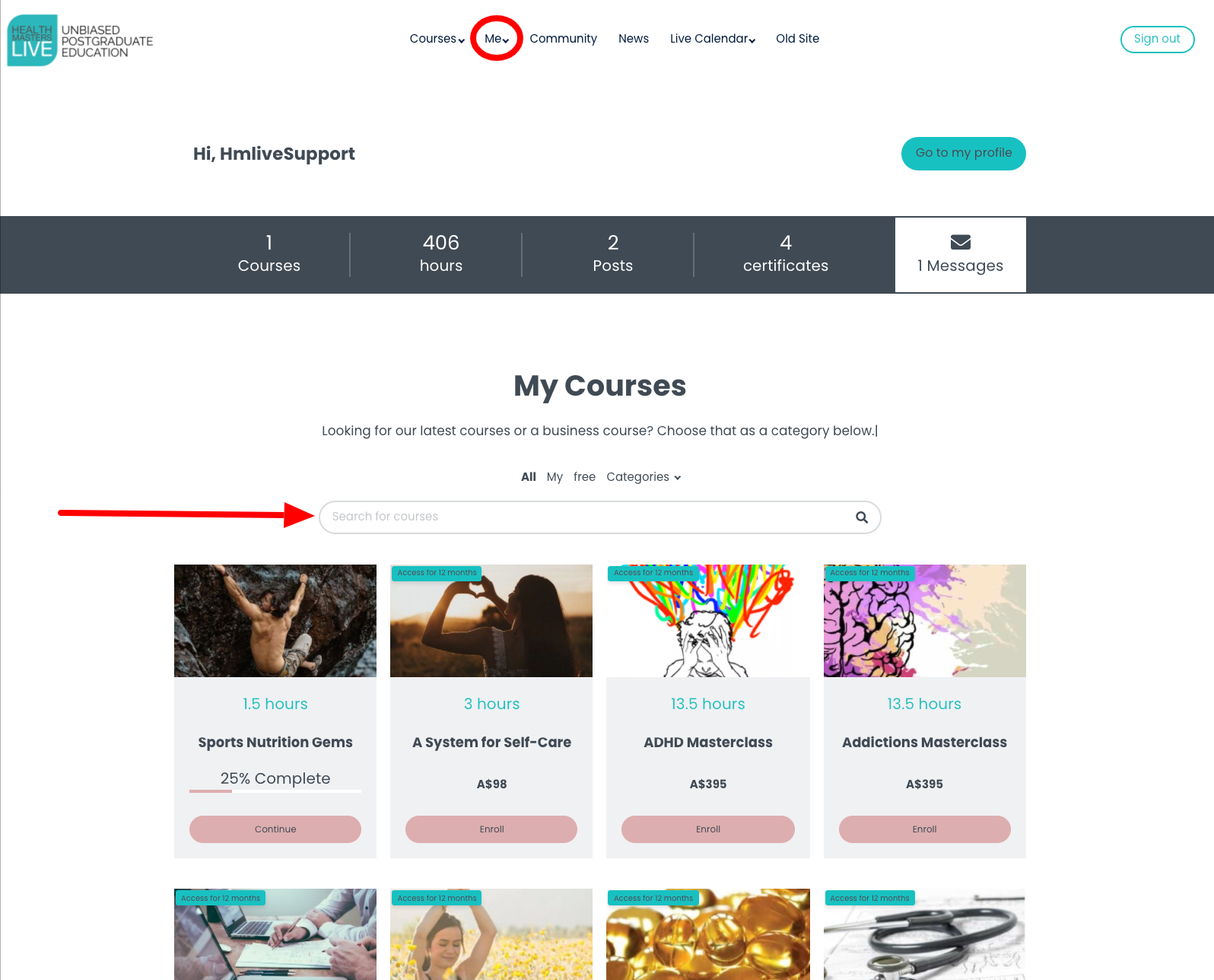 Can I buy a portion of the program because I only need help with... ?
No, sorry. The only option is to invest in the full Masterclass or Series experience. To gain skills in an area of interest, you cannot study just part of it.
How long can I access the course?
Our webinars are recorded and made available for viewing at your leisure for 12 months after you register. If you have an All Access Pass you will have access until your subscription is cancelled.
If you have an All Access Pass, once you have enrolled in a course you will have access until your subscription expires. If you are purchasing courses as-you-go they will have a 12 month access stated clearly in the course description.

Keep in mind that there are a few associations that don't allow CE points if it takes you longer than 6 months to do a short course. They believe if someone has long access they can do a portion of the class, which is then forgotten before they do the rest of the class. For best learning outcomes, it is best to get it done within 6 months.

If for any reason you decide that the Health Masters Li event you purchased was not a good investment for your professional development as a health practitioner we will happily refund your money.
How do I trust that you are unbiased?
We are an unbiased form of education. We take pride in this. We receive many emails from companies wanting to promote their supplements etc. through us. We will not do this. If you feel that you are being sold to at any stage, you get your money back. It's that simple. We are committed to providing unbiased education and don't get paid unless we do an awesome job.
What sort of results should I expect in my practice?
No program is going to work unless you do the work. We give you proven strategies by the best in natural healthcare. They give you what works for them and their patients. We put a tremendous amount of time and energy into our programs. Match that energy and follow through with these recommendations.
I work with another practitioner, can we take the course together?
If you would like to take a course along with another practitioner you will need to purchase the course individually. If you are interested in having your entire team take a course, a separate registration will need to be purchased for each participating member.

If you have a team of over 4 members, please contact us as we can offer you a substantial discount. This is the most economical way to access Health Masters Live and makes a great yearly gift for your team members as well as keeping your practice up to date.
How many types of courses are there?
There are two types of courses; Free and the ones that need to be purchased. If the course you want to enroll in is free click on "Register for free" to have full access to the content. If the course you want to enroll in is paid, click on "Enroll" (the course's price should be visible, right next to Εnroll) and follow the checkout process. Once completed, the course contents will unlock for you.
It depends on the course. Each course has different time requirements. These are listed on the course page.
How long after a live broadcast can I watch the recording in my account?
The course video recordings are generally available to watch within 6 hours of the LIVE event broadcast.
How will CE be handled and will you do it for me?
When you complete your Course you can then download a personalised certificate containing your education hours. Your association typically converts this to CPE credits.
We do have instant approval through many associations, however, there are hundreds of associations around the world. If your association is not one of our approved associations, that's ok, as you can typically submit your certificate with hours of attendance on it and your association will credit you a certain number of points per hour.
Find out more about
our approved CPE here
.
How do I become a presenter?
If you are interested in becoming a presenter for Health Masters LIVE please email us your proposal, including the topic/s, myths you would like to overturn, and clinical pearls that might make a difference in how other practitioners practice. Please also send any links to any websites with your work, social media sites or videos of your previous speaking engagements.

You will have to have been a proven leader in the area of health that you wish to speak on. We will forward anything you send to our Production Team. They will then be in contact with you directly if they have questions or follow-up items.
What if I get a pass but don't access it often?
To get the most out of Health Masters Live we recommend that you attend your classes live. This allows you to ask questions and encourages you to complete your coursework. If you choose to watch the recordings because the live class is inconvenient for you please add notifications to your calendar so you are reminded to watch them.

We know life gets in the way sometimes and things can get left behind. If you do need a little extra time to finish a course just let us know. Don't leave watching the recordings until it is too late. It's important to make some time to become a better practitioner right? You only get out of it what you put into it.

For ongoing access, purchase an All Access Pass yearly subscription. This gives you access to ALL of our content, both live and recorded, for as long as your subscription is active. If you watch a few Masterclasses a year it's also the best value.
My coupon code is not working
Make sure when you add your coupon code you click the "Redeem" button.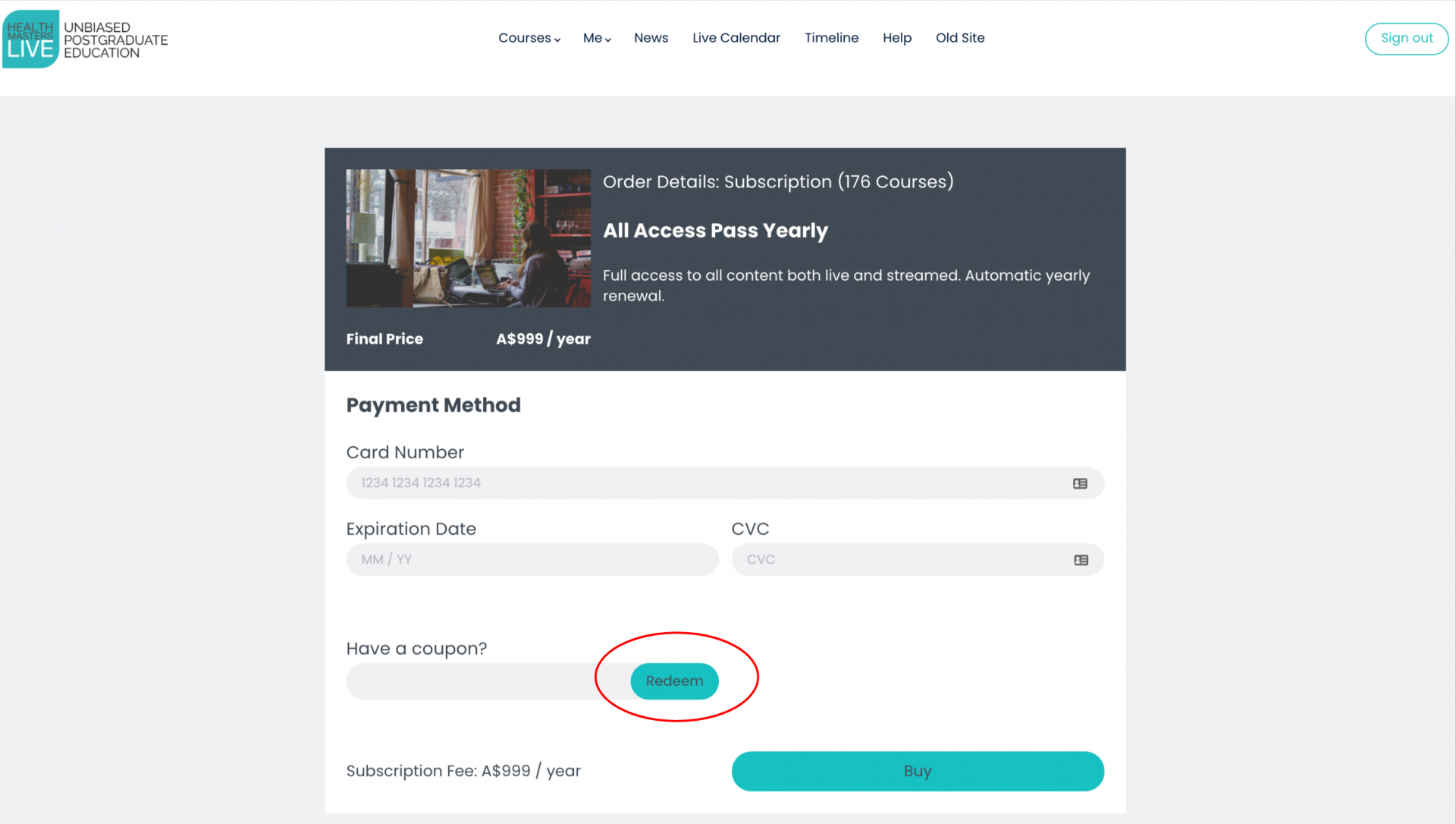 My credit card is being declined
Credit cards can be declined for a number of reasons. Check that you're entering your credit card number and billing address correctly, that your card has available funds, and that your card hasn't expired. If you're getting an error when you try to pay, we recommend reaching out to your bank or credit card company for more information. Inform them of the amount and when you tried to make the charge so they can let the transaction go through.

Some banks have card restriction on International purchases. Although we broadcast around the world, our head office is located in New Zealand and has a New Zealand bank account. Your bank is likely recognizing this and placing a restriction on your purchase to protect you against fraud.

From here you have a couple of options:
Process your payment using PayPal (you can still use your credit card here as it goes through a different gateway)
Contact your bank and give them permission to approve the transaction. You will then be able to place your order online with us using your credit card.
If you are trying to order and are getting an error message that says "Action failed" or "Refresh page" you may need to empty the cache on your browser or update your browser.

The most common error that can occur is often due to a credit card issue with the bank or the address information being entered during the check out process. Our system is designed to verify your address. It checks that the address entered during check out matches what the bank has on file.
Exchange rates and currency conversion
When the currency you're paying with is different from the default currency of the country where you are located, we convert your payment automatically. All prices on our platform are in Australian dollars.

We broadcast around the world but our head office is located in New Zealand. This may incur an exchange fee from your bank. If you are in Australia we highly recommend cards such as 28degrees or Wise to avoid this. There are similar options in the US and Canada.

The base exchange rate on our site uses data from third parties, such as OANDA. It's updated regularly, but may not be identical to the real-time market rate.
If you pay in a currency that's different from the designated currency of your payment method, your bank or third-party payment processor may apply a currency conversion rate or fee to your payment. Contact your provider (for example, your credit or bank card issuer) for information on what fees may apply since they're not controlled by us.
How can I cancel my subscription plan?
Log in and access your
Account
. On this page, you will find a Cancel Subscription button.

If you proceed, the page will display a button for the optional reactivation of the same subscription plan or the option to choose another one by clicking the Change button.
Does the website save all my certificates?
Yes, it does, under your
Profile
area.
How do I get the most out of my All Access Pass?
The AAP gives you access to everything we have done and everything we will do for the life of your subscription. You will find a course for almost every one of your patients. It's an enormous database of the very best clinical strategies available. And the list is growing. It is a vast resource that you can go to at any time.
Many choose to keep their subscription running as part of their clinic resources so they can go straight to the very best information, in detail, at a moments notice. You can watch as much as you want, as often as you want. Unlimited access to all materials. All of your CE done and dusted, although we know the value of our education reaches further than just using it for CE.
Many thanks to those who send us emails about how the platform assists you in practice. That's what keeps us going. We endeavour to cover the vast majority of clinical presentations along with practice management advice via our ongoing Practice Builders series. As advances happen, we strive to be the place where you hear it first.
Please let us know if you have any questions about the platform or how to use it to get the most out of it. Smart practitioners choose our All Access Pass.The AAP makes your education plan an easy one!
When are the live classes on?
You can see when the live classes are on via the
Calendar
link on the top menu.

How often should I log in? We have practitioners who log in every now and then and practitioners who log in daily. Most fall somewhere between the two. If you feel you are not using your All Access Pass to its fullest extent please set aside time to do so. The last this we want is for you to feel dissatisfied with the platform just because you don't make use of it.