Eating and Appetite Disorders Masterclass
This program is a thorough overview of these conditions and will give you considerable skills in recognising and assisting those with eating and appetite disorders.
Format
Online Course
9 lessons
Availability
12 Months OR Subscriber Pass


Duration
90 min/lesson
13.5 Hours total
Presenters
Dr Carolyn Coker-Ross
Leslie Binch
Courtney Phifer
Michelle Lelwica
Kate Martin
Julie Duffy-Dillon
About this course
Eating disorders are tricky. They are psychological and also physiological so we need to have a deep understanding of these issues to effect good patient outcomes. And good outcomes are needed. These are serious and often life-threatening conditions. In many areas, the incidence is increasing and the age at which eating disorders are occurring is decreasing.
This Eating and Appetite Disorders Masterclass has been developed to give you a deep understanding of the complexities of:


Anorexia nervosa
Bulimia nervosa
Binge eating disorder
Food addiction
Emotional eating
Reward deficiency syndrome

Led by Dr Carolyn Ross and her expert team of associates, this program is a thorough overview of these conditions and will give you considerable skills in recognising and assisting those with eating and appetite disorders. See the full program and presenters bios below.


Diagnosing eating disorders can be difficult. A common issue with these patients is that they tend to deny and/or conceal their illness to avoid professional help. Not all patients will be detected by their clinicians and so few receive specialist care despite the severe risks.


People with eating disorders have higher levels of mental disorders and also higher morbidity and mortality. The incidence of diagnosed eating disorders is relatively low in the population but there is a major long-term burden in morbidity and mortality to these individuals.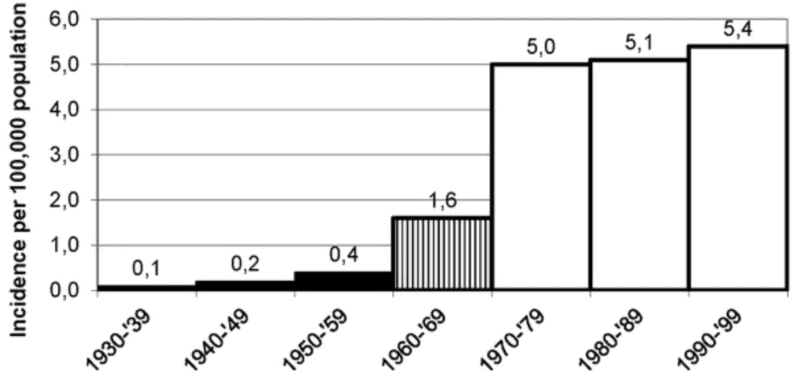 Registered Incidence of Anorexia Nervosa.

There is a great deal we can do to stop these people from slipping through the cracks. And we have many reliable tools and therapies to get them back on track living a healthy life and eating appropriately.
Clear protocol explanations from some of the world's top practitioners

Clinical pearls for improved practice results

Access to your audio and video recordings via the App Store


A downloadable PDF of the presenter's slides

Links to all referenced research papers and useful clinical handouts

Access to the community hub where you can get answers to your questions

A 30-day money back guarantee
From this course you will
Know when you have someone that may have a problem with food, eating or appetite
Learn the characteristic features and diagnostic criteria of someone with an eating disorder
Understand food addiction and emotional eating
Learn how trauma can impact a person's self-image and eating perceptions
Have lots of nutritional and emotional tools to assist these patients
Receive clear protocols on how to approach the diverse range of eating disorders
Achieve much better clinical outcomes for these people who have complex presentations and otherwise poor prognosis
Dr Carolyn Coker Ross
Dr Carolyn Coker Ross MD, MPH, CEDS is an internationally known author, speaker, expert and pioneer in the use of Integrative Medicine for the treatment of eating disorders and addictions. She is a graduate of Andrew Weil's Fellowship Program in Integrative Medicine.


Dr Ross is the CEO of The Anchor Program, an online coaching program for binge eating disorder, emotional eating and food addiction. She is the former head of the eating disorder program at internationally renowned Sierra Tucson and has served as medical director at two other programs.


Dr Ross is a consultant for treatment centres around the US who want to include her unique integrative medicine approach to help clients recovering from eating disorders and addictions. She is the author of three books, the most recent of which is The Food Addiction Recovery Workbook.
Leslie Binch
Leslie Binch is a full-time private practice therapist in Nashville, Tennesee. Prior to this, she worked as a Primary Therapist at the Recovery Ranch and at Integrative Life Center where she specialized in treating eating disorders, addiction and trauma.


Leslie has studied and completed advanced training in Comprehensive Resource Model therapy, Level I, and II Brainspotting, as well as training in DBT, CBT, and in Neuro-Affective Relational Model therapy – all helpful in treating trauma. She went back to graduate school to become a therapist after seeing first-hand what an experience committing to therapy with a skilled therapist did for her own life.
Courtney Phifer
Courtney Phifer MS, RD, LDN is a registered dietitian who provides individual nutrition counselling and education to adults and adolescents for a variety of issues, including eating disorders, disordered eating patterns, emotional eating, medical diagnoses, weight management, meal planning, etc. She helps clients develop a healthy relationship with food by practising a non-diet approach of balance and moderation, teaching permission vs. restriction.


She prides herself on being a nutrition myth-buster. Courtney has worked in behavioural health for over ten years, specializing in eating disorders and addictions. She uses a small-step goal-oriented client-driven approach incorporating body-positive, mindfulness, connection to body cues practices and more.
Michelle Lelwica
Michelle Lelwica is Professor of Religion at Concordia College in Moorhead, Minnesota, where she teaches courses on the intersection of religion, gender, culture, and the body. She did her graduate work at Harvard Divinity School, where she received a Masters of Theological Studies in Christianity and Culture (1989) and a Doctorate of Theology in Religion Gender and Culture (1996).


She is the author of Shameful Bodies: Religion and the Culture of Physical Improvement (Bloomsbury, 2017), The Religion of Thinness: Satisfying the Spiritual Hungers Behind Women's Obsession with Food and Weight (Gürze Press, 2009), and Starving for Salvation: The Spiritual Dimensions of Eating Problems among American Girls and Women (Oxford University Press, 1999), as well as scholarly articles and popular blogs that explore women's conflicted relationships with their bodies.


She has also published articles and taught courses that focus on mindfulness practice and social justice. She has two teenage boys whose endless activities and strong spirits challenge her to continue growing as a whole person.
Kate Martin
Kate Martin M.Ed., LPC-MHSP is a Licensed Professional Counselor and Mental Health Service Provider in the State of Tennessee. She has a Masters degree in Counseling from Vanderbilt University and have worked extensively in inpatient treatment settings, outpatient clinics, school settings, and private practice settings.


Kate began her counseling career as the primary girls' therapist at a residential school for youth in state custody before transitioning into the role of primary therapist for the Eating Disorders program at a residential treatment center. She then worked with children and families struggling with mood disorders, psych disorders, eating disorders, and trauma in an outpatient clinic.


She has had training in EMDR (Eye Movement Desensitization and Reprocessing,) TF-CBT (Trauma-Focused Cognitive Behavioral Therapy,) DBT (Dialectical Behavioral Therapy,) Experiential Therapy, and Art Therapy. Kate is a member of the Tennessee Licensed Professional Counselors Association, the American Counseling Association, and the National Board for Certified Counselors. She has a special interest in working with addictions, eating disorders, trauma, GLBT issues, and women's issues.
Julie Duffy Dillon
Julie Duffy Dillon is a Registered Dietitian, Eating Disorder Specialist, and Food Behavior Expert specializing in PCOS.


She is trained as a mental health counsellor and supervises dietitians and other health professionals to use weight inclusive and attuned eating strategies to promote health and recover from disordered eating.


Julie has seen clients since 2005 in her Greensboro NC private practice and the voice behind the weekly podcast, Love Food.
New Course!
Maximising the Clinical Experience Get instant access now!