Improving Prostate Health
In this short course you will learn the treatment strategies that Dr Geo Espinosa uses with his prostate patients.
Format
Online Course
3 lessons
Availability
12 Months OR Subscriber Pass


Duration
90 min/lesson
4.5 Hours total
Presenter
Dr Geo Espinosa
About this course
For such a little gland, the prostate causes a lot of problems. The prostate plays an important role in sexual and urological function, and all men are at risk for prostate conditions. In this 3-module short course, Dr Geo Espinosa will give you a thorough and up-to-date review of prostate conditions and their care plans.
Prostate cancer is the second leading cancer in men, after skin cancer. And most men over 50 years have benign prostatic hypertrophy. In fact, most prostate problems (not prostatitis) increase with age, which means a huge number of men have a current prostatic condition. In this short course you will learn the treatment strategies that Dr Geo Espinosa uses with his prostate patients.


We need to have a clear vision of what's causing prostatic issues, how to recognise these, and what to do when they present. An interesting aspect of prostatic care is that we also need to know when it's best to leave it alone. To know when it's not causing problems and to let it be for now.


Dr Geo Espinosa is a specialist urologist naturopath. He is the Clinical Assistant Professor at New York University Langone Medical Center – Department of Urology and the director of the Integrative and Functional Urology Center at NYU (see his full bio below).


Dr Espinosa will share the latest research in the three areas he is covering, see outline below. And for each condition he will provide you with his treatment strategy that you can use of all of your male patients.
Clear protocol explanations from some of the world's top practitioners

Clinical pearls for improved practice results

Access to your audio and video recordings via the App Store


A downloadable PDF of the presenter's slides

Links to all referenced research papers and useful clinical handouts

Access to the community hub where you can get answers to your questions

A 30-day money back guarantee
From this course you will
Assessment approaches for your male patients
How to identify the various prostatic abnormalities
When to screen and when not to screen for prostate cancer, and why
How the medical drugs work and why they may cause significant adverse effects
The most effective natural approaches for each prostate problem
Drug-herb-nutrients interactions that are relevant for the prostatic patient
Treatment strategies that you can use in your practice
Dr Geo Espinosa
Geo Espinosa, N.D., L.Ac, C.N.S., RH (AHG) is a renowned naturopathic and functional medicine doctor recognized as an authority in urology and men's health. Dr. Geo is the founder and director of the Integrative Urology Center at New York University Langone Medical Center and the Chief Science Officer at PR Labs. Before joining NYU, Dr. Espinosa was a clinician, researcher and director of clinical trials at the Center for Holistic Urology at Columbia University Medical Center.


Geo is a licensed naturopathic doctor, licensed acupuncturist, a certified nutrition specialist and a registered herbalist. He lectures internationally on the application of integrative urology in clinical settings.


He has published numerous peer-reviewed scientific journals related to integrative management of prostate conditions and urological disorders. Dr. Espinosa is an author of the naturopathic entry in 1000 Cures for 200 ailments, by Harper Collins; March 2007 and "Prostate Cancer – Nutrients that may slow its progression," Food and Nutrients in Disease Management – Maryland: Cadmus Publishing, 2009.


Dr Geo has featured on the cover of the Townsend Letter for Drs.


Dr Espinosa has been recognized as one of the top 10 Health Makers for Men's Health by sharecare.com created by Dr. Mehmet Oz and WebMD. Dr. Geo is the author of the popular book: Thrive, Don't Only Survive: Dr. Geo's Guide to Living Your Best Life Before & After Prostate Cancer.
His urological practice is 100% focused on men's urological disorders including prostate cancer, prostatitis, and benign prostatic hyperplasia (enlarged prostate).


Dr Espinosa also serves on the editorial board of the Natural Medicine Journal.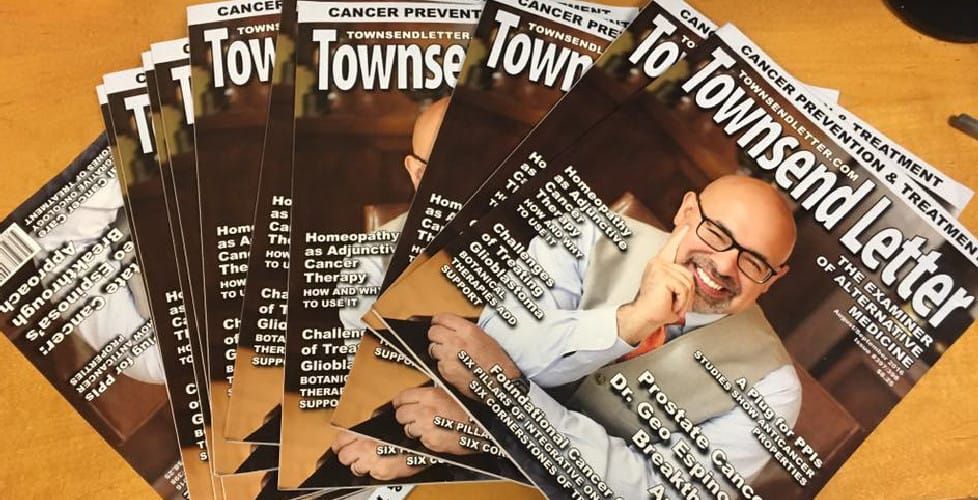 New Course!
Maximising the Clinical Experience Get instant access now!